Navigating the Travel Clinician Process with IDR Healthcare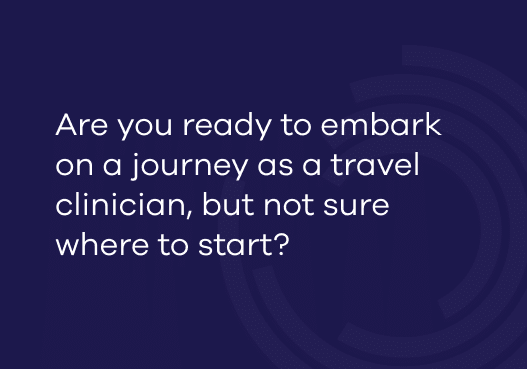 Published: November 1, 2023
Are you ready to embark on a journey as a travel clinician, but not sure where to start? Don't worry; we've got your back! IDR Healthcare is here to help you navigate the travel nursing process. Whether you're a seasoned pro or a first-time traveler, here's how to get started:
Step 1: Create Your Profile
The first step is to create your profile with IDR Healthcare. It's simple, and you can do it whenever you're ready. There's no rush and no hard-and-fast rule about when to apply. Some nurses apply and are packed and ready to go within days, while others take their time deciding. Create your profile, and we'll be here to guide you when you're ready to hit the road.
Step 2: Match with Your Perfect Recruiter
At IDR Healthcare, we believe in the power of choice. You can either let us match you with an amazing recruiter, or you can choose your preferred partner. Your recruiter is your go-to guide in this adventure. They'll create a professional profile, present job opportunities, and submit your applications to as many positions as you desire.
Step 3: Interview and Offer Facilitation
Once you and your recruiter have identified a job that piques your interest, we swing into action. Our Account Management team will facilitate interviews or help secure an offer. When you receive that exciting offer, you're officially one step closer to your next adventure!
Step 4: Credentialing and Onboarding
When you sign your contract (hooray!), our dedicated credentialing specialist will reach out to guide you through the onboarding process. We understand that credentialing is not everyone's favorite part, but don't worry; we've got it all streamlined for you. Most importantly, it's a digital process, making it quick and efficient. The collection of your credentials usually takes up to 14 days, but we often get you ready even sooner.
Step 5: Receive First-Day Instructions
Once you're cleared by the facility and your credentials are in place, it's time to receive your first-day instructions. These guidelines will give you all the information you need to start your assignment with confidence.
Step 6: Begin Your Adventure
With your bags packed and first-day instructions in hand, you're all set to start your travel nursing adventure. Whether you're a first-time traveler or a seasoned vet, we're committed to ensuring your journey is smooth, fulfilling, and positive. Your recruiter will be in touch throughout your assignment to ensure everything goes smoothly.
The travel clinician process is about partnership, transparency, and building a positive experience together. Whether you're navigating the healthcare world as a travel nurse or in an allied healthcare role, we're here to help you every step of the way. 
Click here if you're ready to pack your bags, embark on your adventure, and start making a difference in healthcare, one assignment at a time!